The physical state of the UK's roads, combined with frequent congestion, make choosing a make and model of car that provides comfort important for many drivers and especially those who suffer from back pain, posture-related issues or mobility problems. As Motability nicely summarises, "having the right car seat for you can mean the difference between a comfortable time behind the wheel or a feeling of dread before going for a drive."
Statistics around back pain and driving

From the RAC citing government figures indicating that well over 30 million work days are lost each year due to musculoskeletal problems, and Lookers reporting estimates that 2.5 million or more people in the UK suffer back pain at any one time, to European bodies estimating that half of people suffer back pain at some point in their lives and a car supermarket survey identifying that 75% drive in the wrong position, it's an unarguable area of concern that perhaps isn't often thought about or discussed.
At CarLeasingPeople we care about the wellbeing of our car leasing customers and want you to get maximum enjoyment from the vehicles you drive or are regularly driven in – ideally makes and models that are suitable for your driving patterns in terms of mileage and also relating to people's bodies and physical limitations being unique.

Before discussing why and how back pain, posture and ergonomic problems can develop and what can be done to alleviate them, along with driving-specific considerations, we first want to highlight the car models that are specifically highly recommended by AGR in Germany for promoting healthy posture and for drivers and passengers who suffer from back, muscular, spinal and other problems. AGR is Germany's 'Campaign for Healthier Backs' and has since its formation in 1995 researched and worked towards preventing backache in general, while rating all manner of products and awarding the best the AGR seal of approval.

Which cars are best for drivers with backache or other back pain according to AGR?

Mindful of statistics such as 40% of motorists spending over 90 minutes sat in their cars each day, to the average annual mileage throughout the UK and Europe sitting between 7,900 and 9,320 miles, AGR has developed a checklist and principles for assessing car seats, and has given the following the AGR Seal of Approval:
DS 7 Crossback (Business Line, Performance Line with electric seat package), Opera and Rivoli trims
Ford Focus with Ergonomic seats
Mercedes A-Class, B-Class, C-Class, CLA, CLS, E-Class, GLE, GLE, S-Class and SL, with either the Multi-contour seat, standard seat, massage function, sports and comfort seat, 4-way Iordosis support, or seat comfort package including 'plus'
Peugeot 3008 and 5008 SUV, 508 Fastback saloon and 508 SW estate, with Ergonomic seats
Vauxhall Astra Sport, Cascada, Crossland X, Grandland X, Insignia including Sports Tourer, and Mokka X, with the Ergonomic driver's seat, heavy-duty, premium, premium ergonomic or sports economic option specified
Volkswagen Arteon, Golf, Passat and Tiguan with ergoActive or ergoComfort seats with 14-way adjustment

The Ford Focus was the first make and model of car to be given the Aktion Gesuner Rücken e.V. (AGR) seal of approval and Ford was keen to highlight the car's front seats' 18-way adjustability encompassing four-way lumbar and headrest adjustments, in light of back pain being "the world's single leading cause of disability." Chief programme engineer for the Ford Focus hatchback and estate, Glen Goold, explains: "Sitting in the wrong position can make the driver slouch forward, putting pressure on the lower back. Our goal with the Focus was to build an 18-way adjustable seat that adapts to every person, enabling drivers of all shapes and sizes to easily achieve their optimal sitting position for maximum comfort, especially on long journeys."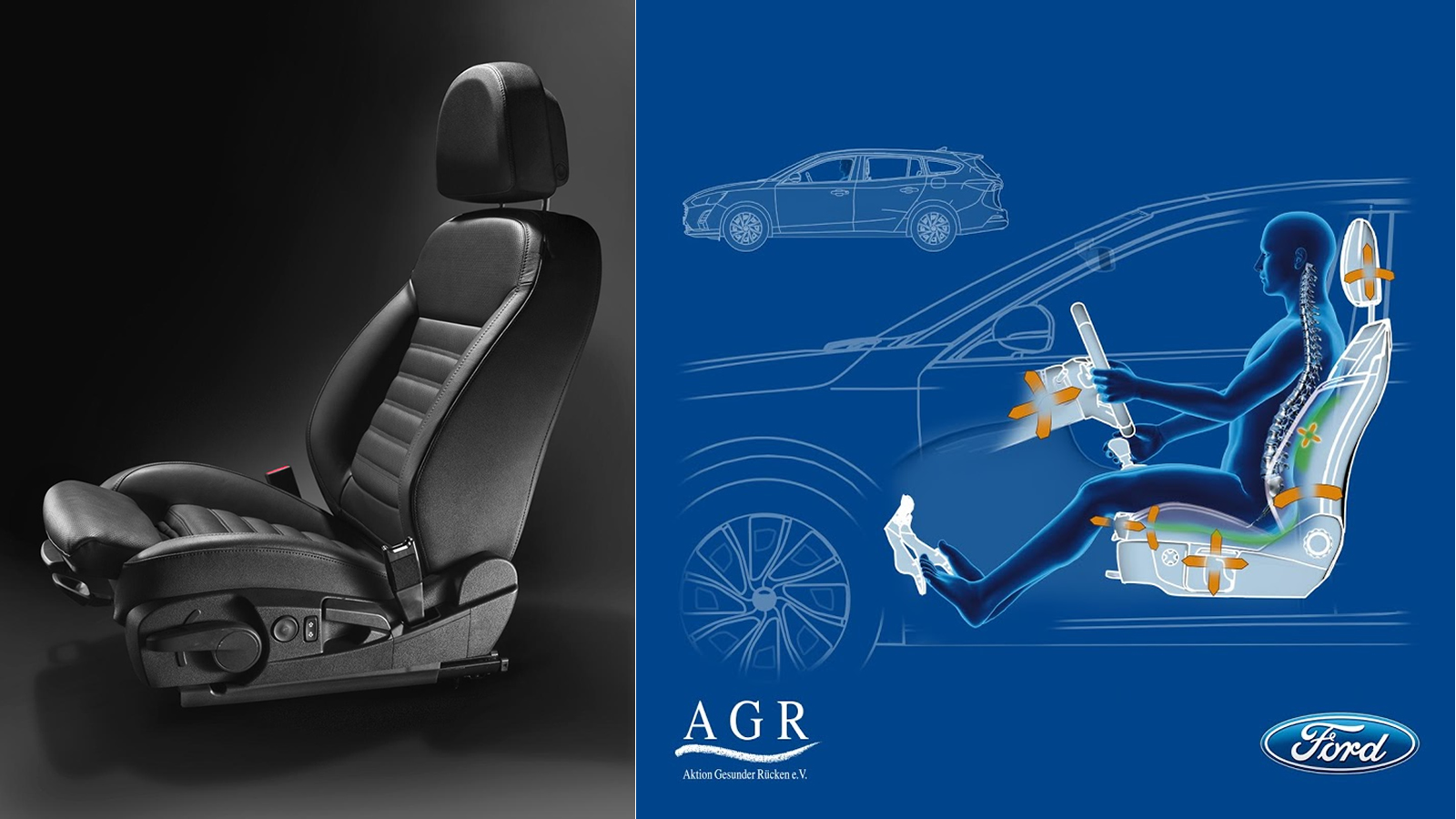 We have conducted comprehensive week-long road-test reviews of both the Ford Focus and Vauxhall Insignia Sports Tourer and can vouch that they do indeed have superbly comfortable and supportive ergonomic seats on their options lists, which are well worth specifying by car leasing customers prone to back discomfort or who regularly undertake long journeys.

Other cars generally regarded as offering supportive seats

BackerNation, a 'health and wellness company developing innovative products and services to empower people with information, tools, and resources to overcome their back pain and spine conditions', enlisted the advice of Darrin Zeer, a relaxation expert and yoga author, who suggested the following models because of their remarkably comfortable seats:
Audi models
BMW 7 Series
Kia Optima
Lexus LS
Lookers, a UK dealership, recommends the best options for a comfortable drive as:
BMW X5
Kia Sportage
Nissan Qashqai
Volkswagen Tiguan
Volvo XC60
Consumer website CarBuyer has also looked at comfortable cars offering good support for backs and, after reassuring that a smooth ride doesn't mean that a car can't offer cornering agility, they list models including:
Citroen C3 supermini/small city car
BMW 5 Series prestige saloon
Jaguar XF luxury saloon
Skoda Superb hatchback
Range Rover SUV
Volvo S90 saloon
In addition to leasing a car with memory seats and good levels of lumbar support, Lookers also rightly highlights that a reversing camera is also beneficial as it removes the need for uncomfortable twisting of a person's while reversing, and that an electric-powered boot or tailgate reduces pressure and strain on discs and muscles. If back comfort is of particular importance to a car lease driver, it's usually possible to test-drive makes and models at one or more dealerships in order to evaluate their seats in person.
Why can sitting in a car be bad for your back
Earlier this year, the RAC sensibly reminded motorists of all ages that "Driving safely from A to B involves more than avoiding a road accident. The position of your seat and how you sit in it can also have a significant impact on your body." The breakdown organisation issued the sobering warning that "prolonged exposing to driving has shown to be a risk factor for back pain, with the risk increasing for anyone who drives for more than 20 hours a week."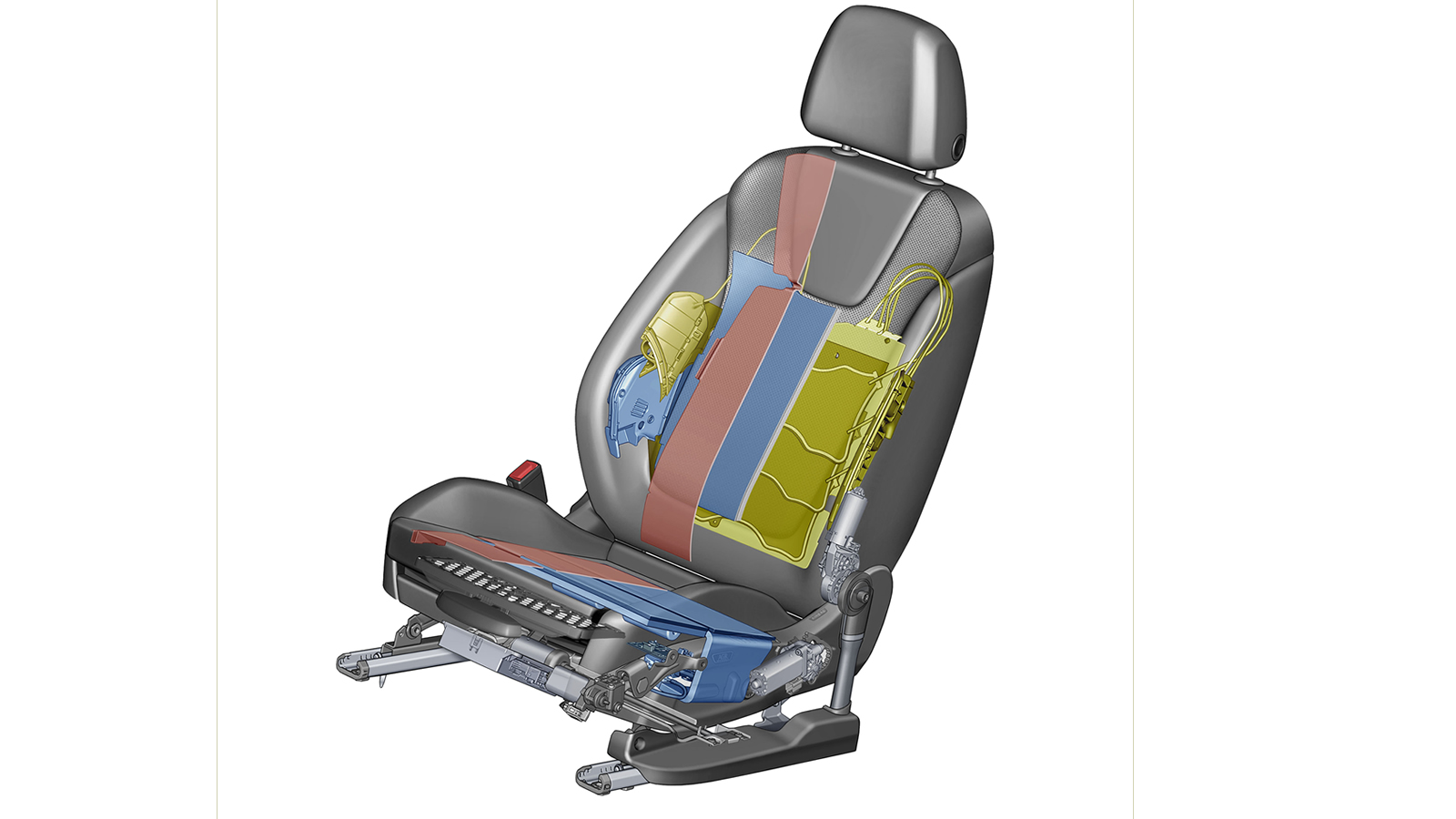 Driving-related injuries commonly include:
Aches in the neck or shoulders
Back pain, which can be chronic
Cramp
Pins and needles
Stiffness
Spine problems including discs
Car reviews often make reference to 'ergonomics', which is a label that car manufacturers have clearly latched onto in differentiating the comfort, side and lumbar plus other support that their various seating options offer. Ergonomics is the study of how people efficiently use their environments, so in the case of cars this relates to the driver being able to see adequately, sit comfortably and reach all the necessary controls to maintain safe control of the vehicle no matter what size the person and indeed the car is.

As the website 'Active x Backs' explains, "The car seat – like any other seat in an ideal world – should support you in a position which minimises the strain on your muscular and skeletal systems", and they recommend a 110-degree leaning angle for the seat's backrest before outlining simple exercises that front seat drivers and passengers can easily perform to maintain circulation and back wellbeing.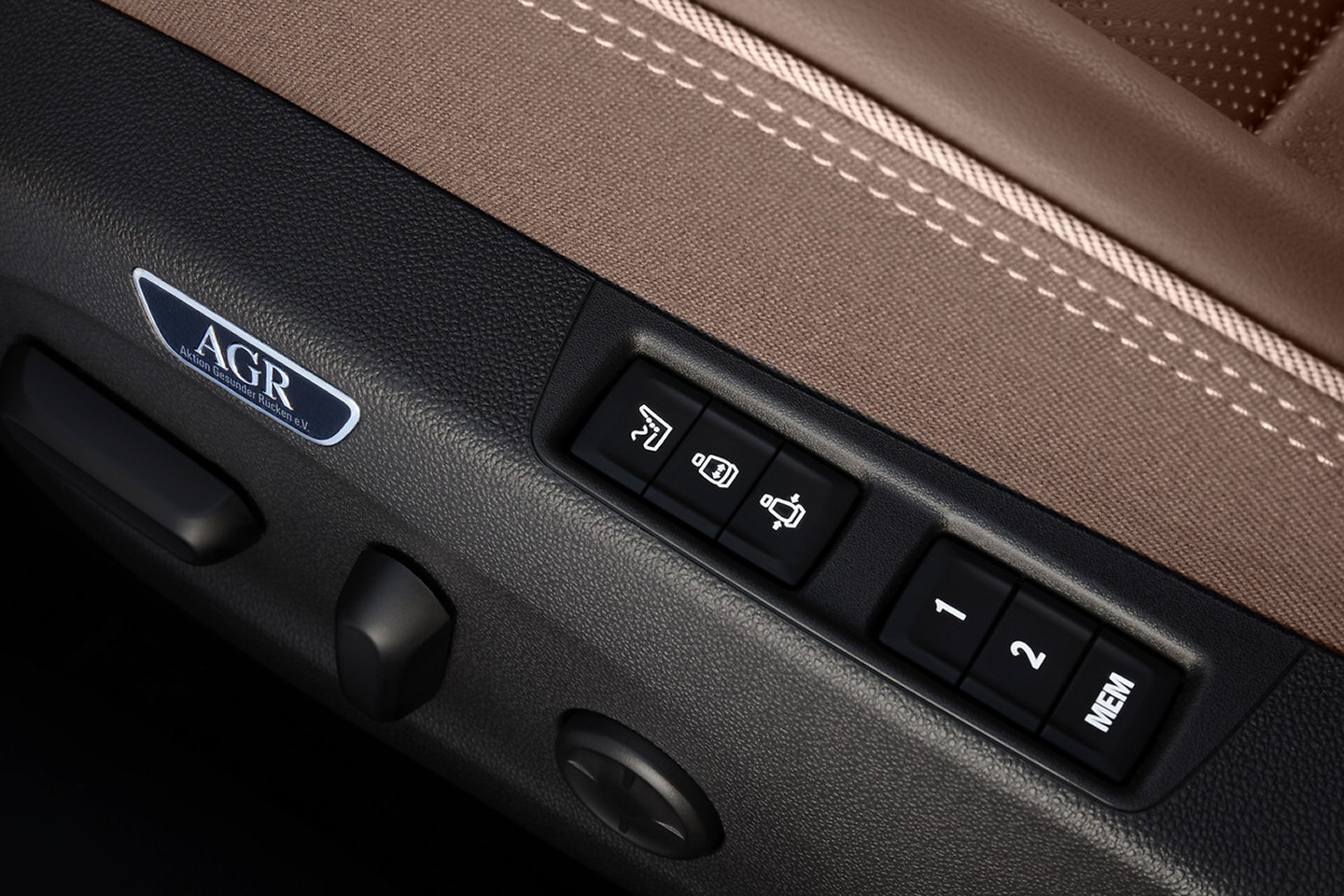 Consumer Wellness Investigator Darian Carrow explained to BackerNation that sitting in a car seat brings with it vehicle-specific and vertebrae-shaking vibrations that "can shake your spine, resulting in the discs between the vertebrae, which are shock absorbers for your back, causing back pain."
"Our spines have a natural 'S-curve' shape to them, and so you want to keep that curve whenever you're sitting and driving. Any deviation from our neutral alignment can cause back pain", commented Leon Turetsky, a corrective exercise specialist, before detailing how inbuilt lumbar support or a cushion can help maintain the spine's natural, neutral curve rather than be forced into a C-shape.
Posturite, a leading UK-based ergonomics company that specialises in employee health and wellbeing, advises that it's beneficial for a driver to "straight up and start moving again" after getting up from a car seat, in order for their muscles and ligaments to recover after a period of prolonged sitting in particular. This is partly because inactivity reduces the human body's flexibility and increases the feeling of stress.

What car seat features help alleviate back pain and poor posture problems?

If you're someone with a driving routine or health circumstances that point to the need to find the best cars for healthy backs before deciding which one to lease, the following features are typically recommended to look for either as standard equipment or on an options/pack list:
Electric seat adjustment, offering more precise control over finding a comfortable position
Height-adjustable seats, making it easier to reach all the necessary controls. Standard on the Ford Focus, SEAT Arona, Volkswagen (VW) Golf and several other models.
Lumbar support, ideally electric rather than lever-operated
Memory seats, enabling the front driver and sometimes also passenger to store their ideal seating position(s).
A car's seats shouldn't be too hard or too soft, a nice balance between firmness and pliability ideal, and some models come with or can be specified with extendable seat cushions for drivers with longer legs.


Best practice for sitting in a car


Physiotherapist Tim Blakey told one of the UK's leading car supermarkets that slumping to one side with one's elbow resting on the centre console or the door/window is a habit that drivers are best to avoid, while fellow practitioner Clare Henson-Brown advises that daily drivers should remember that the seat should be reclined backways to a reasonable angle rather than positioned upright in 90-degree fashion, or positioned too close to the steering wheel.
RoSPA, formally the Royal Society for the Prevention of Accidents, recommends drivers to make sure their seats are high enough to not only provide a clear view of the road ahead but also to result in their hips being at least as high as their knees, with adequate thigh support. A driver shouldn't have to stretch in order to operate the foot pedals or hold the steering wheel. To prevent slumping or leaning to the left or right, the RAC and RoSPA recommend keeping both hands on the steering wheel as much as possible, while drivers and passengers with back, posture, spine or other mobility limitations are advised to steer clear of sports cars, which tend to be low down and hence harder to access. They cite the Honda Civic as a model favourable for drivers with sensitive backs.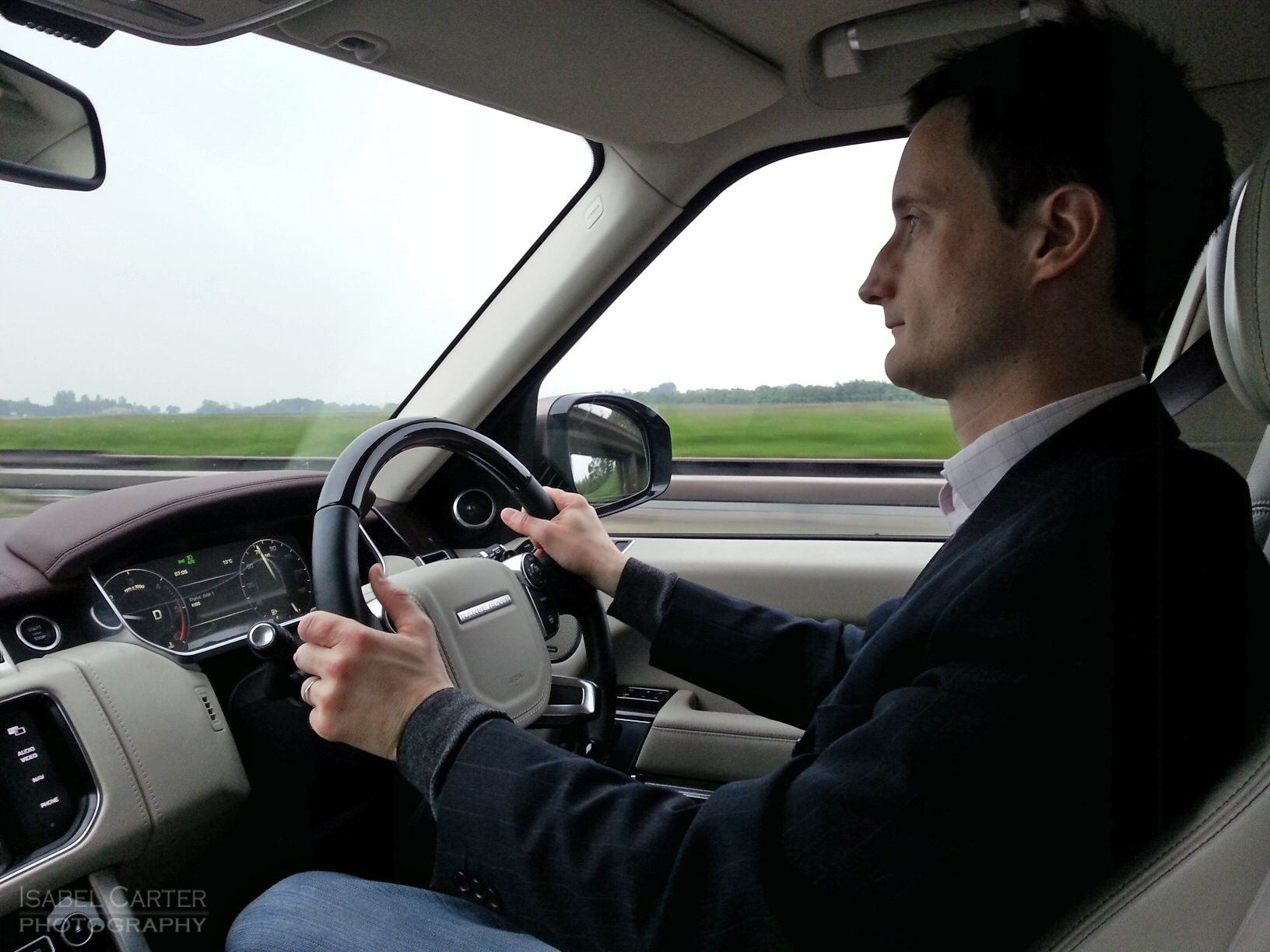 Knees should ideally be positioned at a 90-degree angle rather than stretched out in front of the driver in the direction of the pedals, hands on the steering wheel should be positioned at 2 and 10 o'clock, and the driver's head should be upright rather than hunched forwards or forced backwards.
The charity Age UK suggests that cars with automatic rather than manual gearboxes are often more comfortable and generally easier to drive, and its list of most comfortable cars with heated seats, extendable seat cushions, adjustable bolster support and massage function includes:
Citroen C4 Cactus
Honda Jazz
Volvo V90
Returning to AGR (Campaign for Healthier Backs), they and the medical profession "stipulate that it must be possible to adjust the car seat to the body in the respective sitting position – and not vice versa". They state that car seat comfort isn't determined by whether the upholstery is cloth, leather or some other material, the key being the characteristics of the foam padding used.
AGR perhaps surprisingly highlights in its most recent back health material that "good climactic attributes are necessary to ensure that the driver is neither too warm nor too cold in the seat", and they once again reinforce the importance of headrest positioning and adjustability in their checklist used for assessing car seat comfort.

How car leasing can help

Unless stated otherwise, lease cars are usually always brand new, except through a used car, ex-demo, nearly-new or 'Re-lease' service. This means that they either come with or can be specified with the latest technology and equipment, including ergonomic, heated and massage seats plus other comfort packages.
Compared to the relatively large sums of money typically required as deposits on brand new cars purchased on finance with a loan or dealer hire purchase (HP), car leasing involves comparatively more affordable 'initial rental' amounts, followed by fixed monthly payments over a set duration. Car leasing special offers and general prices enable more drivers to access cars that would otherwise be unaffordable, helping them get behind the wheel of comfortable models with supportive seats that counter poor posture, back pain and other physical challenges, finishing each journey feeling more refreshed.
Although CarLeasingPeople's knowledgeable personal leasing team aren't experts and able to advise specifically on back pain and other physical mobility requirements, we would be more than happy to provide pointers on which particular seats, options and packages need specifying for certain models to benefit from their stand-out benefits such as AGR certification.